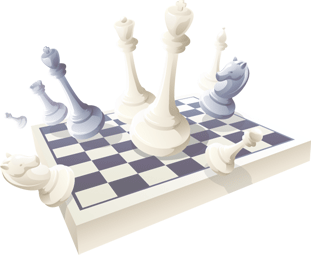 Point rate (in %)-Ranking
This Ranking refers to:
Chess type: Capture chess
Time: Quick chess
For: Real money
Only results of finished tournaments are included. Games or points of not yet finished tournaments are not included here.
Notice: In real money rankings every player sees only his own player name. The other player names are garbled. Exceptional cases: The rankings regarding ELO and Played Tournaments. In these rankings all player names are printet in plaintext.
| Rank | Player | Point rate (in %) |
| --- | --- | --- |
| 1 | ### | 0.00 |
| 1 | ### | 0.00 |
| 1 | ### | 0.00 |
| 1 | ### | 0.00 |
| 1 | ### | 0.00 |
| 1 | ### | 0.00 |
| 1 | ### | 0.00 |
| 1 | ### | 0.00 |
| 1 | ### | 0.00 |
| 1 | ### | 0.00 |
| 1 | ### | 0.00 |
| 1 | ### | 0.00 |
| 1 | ### | 0.00 |
| 1 | ### | 0.00 |
| 1 | ### | 0.00 |
| 1 | ### | 0.00 |
| 1 | ### | 0.00 |
| 1 | ### | 0.00 |
| 1 | ### | 0.00 |
| 1 | ### | 0.00 |
| 1 | ### | 0.00 |
| 1 | ### | 0.00 |
| 1 | ### | 0.00 |
| 1 | ### | 0.00 |
| 1 | ### | 0.00 |
| 1 | ### | 0.00 |
| 1 | ### | 0.00 |
| 1 | ### | 0.00 |
| 1 | ### | 0.00 |
| 1 | ### | 0.00 |
| 1 | ### | 0.00 |
| 1 | ### | 0.00 |
| 1 | ### | 0.00 |
| 1 | ### | 0.00 |
| 1 | ### | 0.00 |
| 1 | ### | 0.00 |
| 1 | ### | 0.00 |
| 1 | ### | 0.00 |
| 1 | ### | 0.00 |
| 1 | ### | 0.00 |
| 1 | ### | 0.00 |
| 1 | ### | 0.00 |
| 1 | ### | 0.00 |
| 1 | ### | 0.00 |
| 1 | ### | 0.00 |
| 1 | ### | 0.00 |
| 1 | ### | 0.00 |
| 1 | ### | 0.00 |
| 1 | ### | 0.00 |
| 1 | ### | 0.00 |
| 1 | ### | 0.00 |
| 1 | ### | 0.00 |
| 1 | ### | 0.00 |
| 1 | ### | 0.00 |
| 1 | ### | 0.00 |
| 1 | ### | 0.00 |
| 1 | ### | 0.00 |
| 1 | ### | 0.00 |
| 1 | ### | 0.00 |
| 1 | ### | 0.00 |
| 1 | ### | 0.00 |
| 1 | ### | 0.00 |
| 1 | ### | 0.00 |
| 1 | ### | 0.00 |
| 1 | ### | 0.00 |
| 1 | ### | 0.00 |
| 1 | ### | 0.00 |
| 1 | ### | 0.00 |
| 1 | ### | 0.00 |
| 1 | ### | 0.00 |
| 1 | ### | 0.00 |
| 1 | ### | 0.00 |
| 1 | ### | 0.00 |
| 1 | ### | 0.00 |
| 1 | ### | 0.00 |
| 1 | ### | 0.00 |
| 1 | ### | 0.00 |
| 1 | ### | 0.00 |
| 1 | ### | 0.00 |
| 1 | ### | 0.00 |
| 1 | ### | 0.00 |
| 1 | ### | 0.00 |
| 1 | ### | 0.00 |
| 1 | ### | 0.00 |
| 1 | ### | 0.00 |
| 1 | ### | 0.00 |
| 1 | ### | 0.00 |
| 1 | ### | 0.00 |
| 1 | ### | 0.00 |
| 1 | ### | 0.00 |
| 1 | ### | 0.00 |
| 1 | ### | 0.00 |
| 1 | ### | 0.00 |
| 1 | ### | 0.00 |
| 1 | ### | 0.00 |
| 1 | ### | 0.00 |
| 1 | ### | 0.00 |
| 1 | ### | 0.00 |
| 1 | ### | 0.00 |
| 1 | ### | 0.00 |
| 1 | ### | 0.00 |
| 1 | ### | 0.00 |
| 1 | ### | 0.00 |
| 1 | ### | 0.00 |
| 1 | ### | 0.00 |
| 1 | ### | 0.00 |
| 1 | ### | 0.00 |
| 1 | ### | 0.00 |
| 1 | ### | 0.00 |
| 1 | ### | 0.00 |
| 1 | ### | 0.00 |
| 1 | ### | 0.00 |
| 1 | ### | 0.00 |
| 1 | ### | 0.00 |
| 1 | ### | 0.00 |
| 1 | ### | 0.00 |
| 1 | ### | 0.00 |
| 1 | ### | 0.00 |
| 1 | ### | 0.00 |
| 1 | ### | 0.00 |
| 1 | ### | 0.00 |
| 1 | ### | 0.00 |
| 1 | ### | 0.00 |
| 1 | ### | 0.00 |
| 1 | ### | 0.00 |
| 1 | ### | 0.00 |
| 1 | ### | 0.00 |
| 1 | ### | 0.00 |
| 1 | ### | 0.00 |
| 1 | ### | 0.00 |
| 1 | ### | 0.00 |
| 1 | ### | 0.00 |
| 1 | ### | 0.00 |
| 1 | ### | 0.00 |
| 1 | ### | 0.00 |
| 1 | ### | 0.00 |
| 1 | ### | 0.00 |
| 1 | ### | 0.00 |
| 1 | ### | 0.00 |
| 1 | ### | 0.00 |
| 1 | ### | 0.00 |
| 1 | ### | 0.00 |
| 1 | ### | 0.00 |
| 1 | ### | 0.00 |
| 1 | ### | 0.00 |
| 1 | ### | 0.00 |
| 1 | ### | 0.00 |
| 1 | ### | 0.00 |
| 1 | ### | 0.00 |
| 1 | ### | 0.00 |
| 1 | ### | 0.00 |
| 1 | ### | 0.00 |
| 1 | ### | 0.00 |
| 1 | ### | 0.00 |
| 1 | ### | 0.00 |
| 1 | ### | 0.00 |
| 1 | ### | 0.00 |
| 1 | ### | 0.00 |
| 1 | ### | 0.00 |
| 1 | ### | 0.00 |
| 1 | ### | 0.00 |
| 1 | ### | 0.00 |
| 1 | ### | 0.00 |
| 1 | ### | 0.00 |
| 1 | ### | 0.00 |
| 1 | ### | 0.00 |
| 1 | ### | 0.00 |
| 1 | ### | 0.00 |
| 1 | ### | 0.00 |
| 1 | ### | 0.00 |
| 1 | ### | 0.00 |
| 1 | ### | 0.00 |
| 1 | ### | 0.00 |
| 1 | ### | 0.00 |
| 1 | ### | 0.00 |
| 1 | ### | 0.00 |
| 1 | ### | 0.00 |
| 1 | ### | 0.00 |
| 1 | ### | 0.00 |
| 1 | ### | 0.00 |
| 1 | ### | 0.00 |
| 1 | ### | 0.00 |
| 1 | ### | 0.00 |
| 1 | ### | 0.00 |
| 1 | ### | 0.00 |
| 1 | ### | 0.00 |
| 1 | ### | 0.00 |
| 1 | ### | 0.00 |
| 1 | ### | 0.00 |
| 1 | ### | 0.00 |
| 1 | ### | 0.00 |
| 1 | ### | 0.00 |
| 1 | ### | 0.00 |
| 1 | ### | 0.00 |
| 1 | ### | 0.00 |
| 1 | ### | 0.00 |
| 1 | ### | 0.00 |
| 1 | ### | 0.00 |
| 1 | ### | 0.00 |
| 1 | ### | 0.00 |
| 1 | ### | 0.00 |
| 1 | ### | 0.00 |
| 1 | ### | 0.00 |
| 1 | ### | 0.00 |
| 1 | ### | 0.00 |
| 1 | ### | 0.00 |
| 1 | ### | 0.00 |
| 1 | ### | 0.00 |
| 1 | ### | 0.00 |
| 1 | ### | 0.00 |
| 1 | ### | 0.00 |
| 1 | ### | 0.00 |
| 1 | ### | 0.00 |
| 1 | ### | 0.00 |
| 1 | ### | 0.00 |
| 1 | ### | 0.00 |
| 1 | ### | 0.00 |
| 1 | ### | 0.00 |
| 1 | ### | 0.00 |
| 1 | ### | 0.00 |
| 1 | ### | 0.00 |
| 1 | ### | 0.00 |
| 1 | ### | 0.00 |
| 1 | ### | 0.00 |
| 1 | ### | 0.00 |
| 1 | ### | 0.00 |
| 1 | ### | 0.00 |
| 1 | ### | 0.00 |
| 1 | ### | 0.00 |
| 1 | ### | 0.00 |
| 1 | ### | 0.00 |
| 1 | ### | 0.00 |
| 1 | ### | 0.00 |
| 1 | ### | 0.00 |
| 1 | ### | 0.00 |
| 1 | ### | 0.00 |
| 1 | ### | 0.00 |
| 1 | ### | 0.00 |
| 1 | ### | 0.00 |
| 1 | ### | 0.00 |
| 1 | ### | 0.00 |
| 1 | ### | 0.00 |
| 1 | ### | 0.00 |
| 1 | ### | 0.00 |
| 1 | ### | 0.00 |
| 1 | ### | 0.00 |
| 1 | ### | 0.00 |
| 1 | ### | 0.00 |
| 1 | ### | 0.00 |
| 1 | ### | 0.00 |
| 1 | ### | 0.00 |
| 1 | ### | 0.00 |
| 1 | ### | 0.00 |
| 1 | ### | 0.00 |
| 1 | ### | 0.00 |
| 1 | ### | 0.00 |
| 1 | ### | 0.00 |
| 1 | ### | 0.00 |
| 1 | ### | 0.00 |
| 1 | ### | 0.00 |
| 1 | ### | 0.00 |
| 1 | ### | 0.00 |
| 1 | ### | 0.00 |
| 1 | ### | 0.00 |
| 1 | ### | 0.00 |
| 1 | ### | 0.00 |
| 1 | ### | 0.00 |
| 1 | ### | 0.00 |
| 1 | ### | 0.00 |
| 1 | ### | 0.00 |
| 1 | ### | 0.00 |
| 1 | ### | 0.00 |
| 1 | ### | 0.00 |
| 1 | ### | 0.00 |
| 1 | ### | 0.00 |
| 1 | ### | 0.00 |
| 1 | ### | 0.00 |
| 1 | ### | 0.00 |
| 1 | ### | 0.00 |
| 1 | ### | 0.00 |
| 1 | ### | 0.00 |
| 1 | ### | 0.00 |
| 1 | ### | 0.00 |
| 1 | ### | 0.00 |
| 1 | ### | 0.00 |
| 1 | ### | 0.00 |
| 1 | ### | 0.00 |
| 1 | ### | 0.00 |
| 1 | ### | 0.00 |
| 1 | ### | 0.00 |
| 1 | ### | 0.00 |
| 1 | ### | 0.00 |
| 1 | ### | 0.00 |
| 1 | ### | 0.00 |
| 1 | ### | 0.00 |
| 1 | ### | 0.00 |
| 1 | ### | 0.00 |
| 1 | ### | 0.00 |
| 1 | ### | 0.00 |
| 1 | ### | 0.00 |
| 1 | ### | 0.00 |
| 1 | ### | 0.00 |
| 1 | ### | 0.00 |
| 1 | ### | 0.00 |
| 1 | ### | 0.00 |
| 1 | ### | 0.00 |
| 1 | ### | 0.00 |
| 1 | ### | 0.00 |
| 1 | ### | 0.00 |
| 1 | ### | 0.00 |
| 1 | ### | 0.00 |
| 1 | ### | 0.00 |
| 1 | ### | 0.00 |
| 1 | ### | 0.00 |
| 1 | ### | 0.00 |
| 1 | ### | 0.00 |
| 1 | ### | 0.00 |
| 1 | ### | 0.00 |
| 1 | ### | 0.00 |
| 1 | ### | 0.00 |
| 1 | ### | 0.00 |
| 1 | ### | 0.00 |
| 1 | ### | 0.00 |
| 1 | ### | 0.00 |
| 1 | ### | 0.00 |
| 1 | ### | 0.00 |
| 1 | ### | 0.00 |
| 1 | ### | 0.00 |
| 1 | ### | 0.00 |
| 1 | ### | 0.00 |
| 1 | ### | 0.00 |
| 1 | ### | 0.00 |
| 1 | ### | 0.00 |
| 1 | ### | 0.00 |
| 1 | ### | 0.00 |
| 1 | ### | 0.00 |
| 1 | ### | 0.00 |
| 1 | ### | 0.00 |
| 1 | ### | 0.00 |
| 1 | ### | 0.00 |
| 1 | ### | 0.00 |
| 1 | ### | 0.00 |
| 1 | ### | 0.00 |
| 1 | ### | 0.00 |
| 1 | ### | 0.00 |
| 1 | ### | 0.00 |
| 1 | ### | 0.00 |
| 1 | ### | 0.00 |
| 1 | ### | 0.00 |
| 1 | ### | 0.00 |
| 1 | ### | 0.00 |
| 1 | ### | 0.00 |
| 1 | ### | 0.00 |
| 1 | ### | 0.00 |
| 1 | ### | 0.00 |
| 1 | ### | 0.00 |
| 1 | ### | 0.00 |
| 1 | ### | 0.00 |
| 1 | ### | 0.00 |
| 1 | ### | 0.00 |
| 1 | ### | 0.00 |
| 1 | ### | 0.00 |
| 1 | ### | 0.00 |
| 1 | ### | 0.00 |
| 1 | ### | 0.00 |
| 1 | ### | 0.00 |
| 1 | ### | 0.00 |
| 1 | ### | 0.00 |
| 1 | ### | 0.00 |
| 1 | ### | 0.00 |
| 1 | ### | 0.00 |
| 1 | ### | 0.00 |
| 1 | ### | 0.00 |
| 1 | ### | 0.00 |
| 1 | ### | 0.00 |
| 1 | ### | 0.00 |
| 1 | ### | 0.00 |
| 1 | ### | 0.00 |
| 1 | ### | 0.00 |
| 1 | ### | 0.00 |
| 1 | ### | 0.00 |
| 1 | ### | 0.00 |
| 1 | ### | 0.00 |
| 1 | ### | 0.00 |
| 1 | ### | 0.00 |
| 1 | ### | 0.00 |
| 1 | ### | 0.00 |
| 1 | ### | 0.00 |
| 1 | ### | 0.00 |
| 1 | ### | 0.00 |
| 1 | ### | 0.00 |
| 1 | ### | 0.00 |
| 1 | ### | 0.00 |
| 1 | ### | 0.00 |
| 1 | ### | 0.00 |
| 1 | ### | 0.00 |
| 1 | ### | 0.00 |
| 1 | ### | 0.00 |
| 1 | ### | 0.00 |
| 1 | ### | 0.00 |
| 1 | ### | 0.00 |
| 1 | ### | 0.00 |
| 1 | ### | 0.00 |
| 1 | ### | 0.00 |
| 1 | ### | 0.00 |
| 1 | ### | 0.00 |
| 1 | ### | 0.00 |
| 1 | ### | 0.00 |
| 1 | ### | 0.00 |
| 1 | ### | 0.00 |
| 1 | ### | 0.00 |
| 1 | ### | 0.00 |
| 1 | ### | 0.00 |
| 1 | ### | 0.00 |
| 1 | ### | 0.00 |
| 1 | ### | 0.00 |
| 1 | ### | 0.00 |
| 1 | ### | 0.00 |
| 1 | ### | 0.00 |
| 1 | ### | 0.00 |
| 1 | ### | 0.00 |
| 1 | ### | 0.00 |
| 1 | ### | 0.00 |
| 1 | ### | 0.00 |
| 1 | ### | 0.00 |
| 1 | ### | 0.00 |
| 1 | ### | 0.00 |
| 1 | ### | 0.00 |
| 1 | ### | 0.00 |
| 1 | ### | 0.00 |
| 1 | ### | 0.00 |
| 1 | ### | 0.00 |
| 1 | ### | 0.00 |
| 1 | ### | 0.00 |
| 1 | ### | 0.00 |
| 1 | ### | 0.00 |
| 1 | ### | 0.00 |
| 1 | ### | 0.00 |
| 1 | ### | 0.00 |
| 1 | ### | 0.00 |
| 1 | ### | 0.00 |
| 1 | ### | 0.00 |
| 1 | ### | 0.00 |
| 1 | ### | 0.00 |
| 1 | ### | 0.00 |
| 1 | ### | 0.00 |